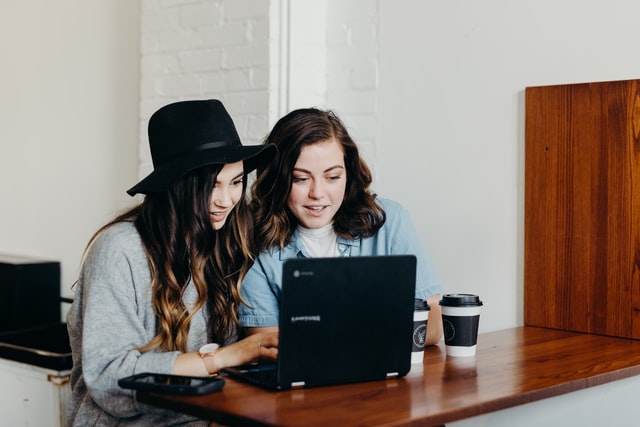 In September 2017, I officially started a role as a Multimedia intern for a church I started going to in my first year of university. I had no idea what to expect.
My expectations weren't too high but they weren't too low either.
Some experiences of people I knew who had interned for churches didn't always sell it as the American Dream but I was sort of preparing for that. I had never gone fully behind the scenes and saw how a church ran, sure, I had served in different areas but I had no idea the time and effort that went in to making church happen.
I was so excited and I felt ready but I also felt nervous and kinda petrified…
I was coming out of a place where my two best friends had moved away, all the students were just starting to return, I was still sifting through heartbreak from a broken-down relationship and I was far from my family but I knew I needed to be here. So there I was. Bright eyed and bushy tailed, ready for whatever the year was going to throw at me…
The logistics
I was set to intern for at least 19 hours per week including your typical Sunday morning at church and I was also enrolled in a local bible school called Empower Bible Academy. Rent was a good rate and food and bills were included. I was transferred over to a job as a front of house waitress half an hour away from where I lived. It was all very ideal looking back on it now but at the time what I really felt like I was going through was a time of confusion, excitement, frustration and a ton of "where are you Jesus" kinda moments.
So with all of that said and done, here are 8 things I learned during my intern year at church.
1. It's hard…
Interning is hard. In different ways. Challenges and mistakes are inevitable, you just have to accept that and that's okay. If everything in life came easy, what's the point in having faith and trust that the Lord's gonna pull through for you? I look back and I remember multiple times where I pooped up and never thought I would recover from it but I did. And this was largely due to my line manager, friend and Pastor, telling me over and over again that perfection isn't what we're here to obtain and it's okay if thing's appear a little rough around the edges.
If everything in life came easy, what's the point in having faith and trust that the Lord's gonna pull through for you?
When you make mistakes, learn from them and then move on. Hopefully that particular mistake won't happen again but if it does rinse and repeat that ish.
2. Time management (big time)
To prevent burn out, try and assess what you can and can't do. For me, this was a particular hard one to nail down (and still is) because there were weeks where I would be struggling to find something to do and other week's where everyone and their mother's dog would need something. For those times I would wish that I had octopus tentacles just to keep up with everything. If you master this from the get go, send a sista your magical ways because I'm still learning this one. What this all boils down to is organisation. Yes, I choke at that word too. It's an important skill that I knew I did not possess. I used a Google calender, to-do lists and management systems like Asana to help me through.
My advice for those that are just going into an internship – is to learn how to organise effectively beforehand, if you can. Remember to star important emails, keep tabs of what you do, create folders of different emails for easy access and to clean up that inbox. Have admin days, preferably at the beginning of the week so that you can sort your week out. Be mindful of time, look ahead at your schedule and make up the hours if you haven't yet met them.
3. That I needed to speak truth over my situation regardless of my feelings
It is important to remind yourself of:
the impact you're making
who you're doing this for
Because if you're JUST doing this for people, you will very easily get disappointed and you will disappoint people but when you remind yourself that you're doing this for God to get the glory rather than yourself or even your church – it changes that inward perspective to an eternal perspective.
Get that ETERNAL PERSPECTIVE.
When you give God your everything He does so much with that. What you have, the skills you possess and what you bring to the table will then be for God as an offering to him.
4. Find joy!
Joy in the mundane was just something I had to pray over myself a lot. While laminating pieces of paper "joy in the mundane", while printing envelopes "joy in the mundane" – make it your Holy mantra. These jobs, in all actuality can be quite therapeutic. Joy in the mundane became my prayer when I felt like the joy of the internship had been sapped out of me. I had to keep on reminding myself "Ros, this is what you prayed to be able to do a year ago."
5. Rest
This doesn't even necessarily mean sleep, this just means remember the things that you loved doing and do them. Prioritise your time, sure but also love the times where you're doing something for you and not for someone else. Be all there, be present and enjoy it. For me I really cherished the days where I could clean my room, put a candle on, sit on my bed, spend time with Jesus, watch a movie, eat an unhealthy snack, go out for coffee with a friend or sit in a coffee shop on your own and write a blog post.
Prioritise your time, sure but also love the times where you're doing something for you and not for someone else.
Take care of yourself, when you feel stressed – pray about it, create a plan on how to tackle it and do it. If you find that you're stressed out often about the same thing, think of ways that you can prevent it. For me I found that I was uploading our church news the day after my intern day because I would always run out of time so I decided to start it a day earlier and weigh out the time between it all.
6. Be willing to be wrong, to learn and also, to submit
When I first started I thought of all the amazing plans and ideas that I had to bring to the table. This longing would increase over the year as I would look at the way other church's did their social media which would soon lead me into the comparison trap (don't do it gurl, don't do it). When I would go in all guns blazing "let's do this, do that" I actually gave myself more work to do than I needed to. At the beginning, I was a team of one. If I was to set out and do all of these amazing things, I would need to have a team behind me because without a team, it was unrealistic. Shortly after my first year of interning I brought together a team of students that became the Creative Media team. Think of a resolution! If you're stuck, think ok, here's the problem, now, how do I fix it? My struggle of being a team of one meant that at times I would get it wrong. Which is okay, I had to learn a lot and every day I'm doing the same. Listen to those in authority over you. There will be times when you disagree and there will be times when you're on the same page, ultimately, submit to the authority set before you, this pleases God. Which leads me onto the final thought splatter.
7. Build relationships
Church life can be messy, people can hurt, get the wrong end of the stick and assume. The enemy loves a good old divide and conquer tactic. But know that even though church life is messy, we serve a God who is constant and consistent. Whose love is unconditional and died to not only forgive our sins but also that of the person who hurt you. Be slow to anger, quick to forgive and always, always love. Treat each other with respect, enjoy their company, laugh with each other, cry with each other, pray for each other and be kind to one another. Relationships aren't built in a day, so remember to show up. Community takes a whole load of people showing up.
Be slow to anger, quick to forgive and always, always love.
8. Communicate
People aren't mind readers, take it to the Lord and communicate your point effectively. I really struggle with this sometimes. It's hard at time, to be real, vulnerable and to bring up things like this but at the end of the day even if it frightens you, do it anyway. Be real, rather than suffering in silence and building up bitterness and thinking "why don't they understand me?" Sometimes you're going to get it wrong and that's okay. You're human, girl.
Now, after two years of doing my internship and with one of those years consiting of me trying to juggle a Masters and second year of Bible school I totally understand that there's way more that I have to learn about life and I'm definitely not suggesting that I've got it all sussed out. I'm just here, plodding along trying to string words together that hopefully make sense to you.
If you relate to any of this holla at your gurl. To work for the church is an insanely cool thing to do. I cannot express that enough. It requires something of you. It require you to take what your passionate about and do it, not for a paycheck, but because you love it and you know it's what God's called you to do.